Batteries & Supercaps/ChemElectroChem Joint Virtual Symposium: Beyond Lithium-Ion Batteries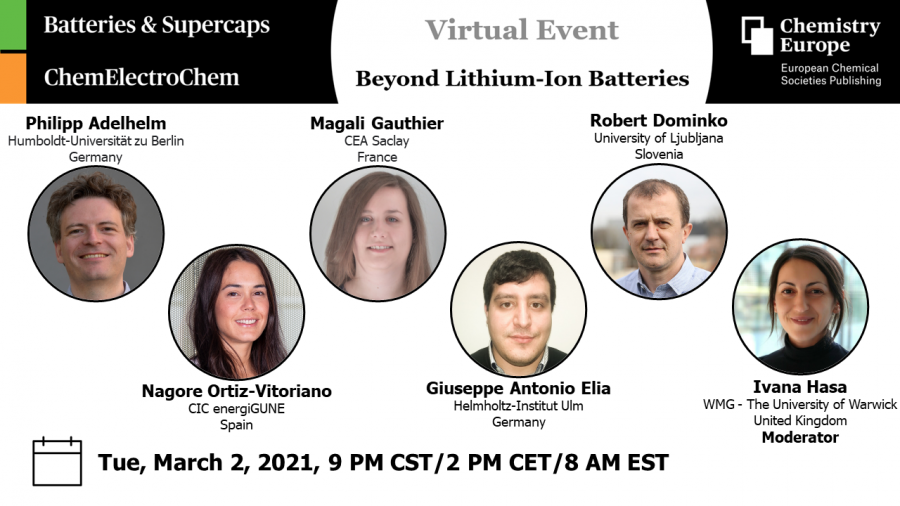 Chemistry Europe Virtual Symposia connect the leading minds in the chemical sciences and bring cutting-edge research directly to you!
Please join the editorial teams of Batteries & Supercaps and ChemElectroChem for their first joint event on Beyond Lithium-Ion Batteries. 
Enjoy 2 sessions with five exciting 25-minute presentations and participate in interactive question-and-answer sessions:
Sodium Batteries (14:00-15:15 CET)
Philipp Adelhelm
Nagore Ortiz-Vitoriano
Multivalent Batteries (15:15-17:00 CET)
Giuseppe Antonio Elia
Magali Gauthier
Robert Dominko
Presenters
Philipp Adelhelm
Humboldt-Universität zu Berlin
"Material aspects of alternative energy storage: Sodium-ion and solid-state batteries"
Nagore Ortiz-Vitoriano
CIC energiGUNE
"Towards better understanding of Na-O2 batteries: from materials selection to electrolyte solvation"
Giuseppe Antonio Elia
Helmholtz-Institut Ulm
"Insight into the aluminum graphite dual-ion battery"
Magali Gauthier
CEA Saclay
"Phase transformations in alloy-based negative electrodes for magnesium batteries"
Robert Dominko
National Institute of Chemistry, Slovenia
"Possibilities and challenges of multivalent organic batteries"
Ivana Hasa
University of Warwick
Moderator
Rosalba A. Rincón
Batteries & Supercaps Associate Editor
Host
Kate Lawrence
ChemElectroChem Editor-in-Chief
Host