Chemie en Wereldoorlog I: een dag in de Westhoek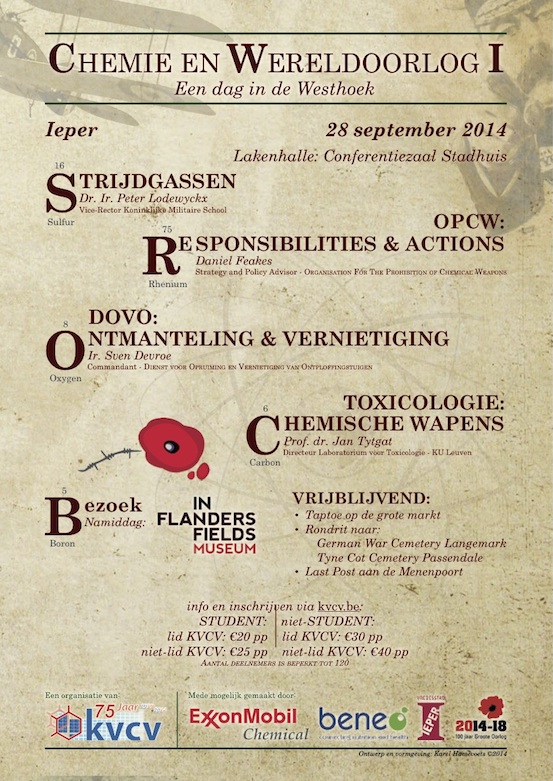 In het kader van 75 jaar KVCV en 100 jaar Groote Oorlog organiseert de KVCV op zondag 28 september 2014 met de steun van de stad Ieper een studiedag over de chemie achter deze oorlog.
Programma:
9u00 Ontvangst
9u30- 12u45 Lezingen
Dr. Ir. Peter Lodewyckx, Vice-Rector Koninklijke Militaire School: Strijdgassen
Daniel Feakes, Strategy and Policy Advisor - Organisation for the Prohibition of Chemical Weapons: OPCW Responsibilities & Actions
Ir. Sven Devroe, Commandant - Dienst voor Opruiming en Vernietiging van Ontploffingstuigen: DOVO: Ontmanteling en vernietiging
Prof. dr. Jan Tytgat, Directeur Laboratorium voor Toxicologie – KU Leuven: Toxicologie van chemische wapens
12u45 - 13u45 Broodjesmaaltijd
14u00 - 15u45 Bezoek aan het "In Flanders Fields Museum"
Deelnameprijzen:
Student en lid: 20 Euro inclusief BTW
Student en niet-lid: 25 Euro inclusief BTW
Lid: 30 Euro inclusief BTW
Niet-lid: 40 Euro inclusief BTW
Inschrijven is niet meer mogelijk.
---
Graag geven wij u ook nog enkele suggesties mee welke u op eigen initiatief nog kan toevoegen aan deze dag in de Westhoek.
16u00 Ypres Memorial Tattoo: meer info en tickets: http://www.ypresmemorialtattoo.be/home_ned.html
17u30 Rondrit met je eigen wagen naar German War cemetery Langemark (11 km = 15')
Rondrit met je eigen wagen naar Tyne Cot cemetery Passendale (11 km = 15')
20u00 Last Post aan de Menenpoort te Ieper
This project is made possible thanks to the support of: