ESOC 2023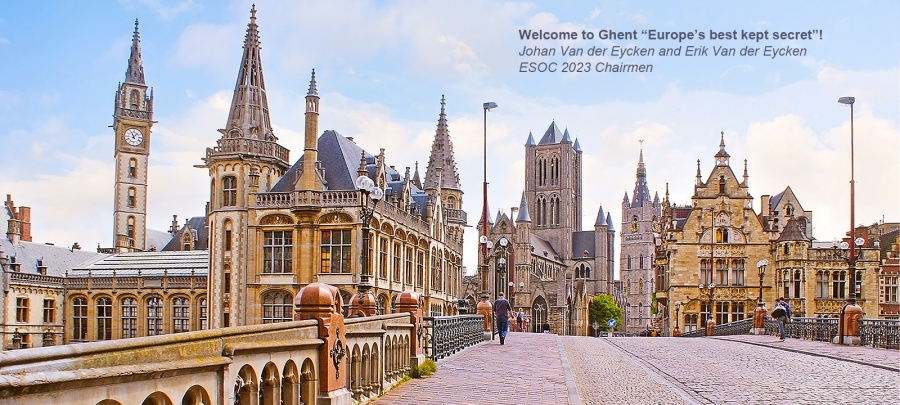 Date
2023-07-09
00:00
-
2023-07-13
00:00
Venue
University Forum - UFO - Sint-Pietersnieuwstraat 33, 9000 Gent

Due to the postponement of this physical event in 2021, a 2-days Virtual Mini Symposium has been created and will take place on July 5-6, 2021 in a fully digital setting. This mini-symposium has been organised to close the gap until the next edition in 2023 and will have four sessions, including three lectures by invited plenary speakers, a lecture by the Winner of the "Young Investigator Award 2019" attributed by EuCheMS Division Organic Chemistry, and the presentation of the second Dr. Margaret Faul Women in Chemistry Award 2021 attributed by Science of Synthesis (Thieme), followed by a lecture by the Awardee. A large number of oral communications selected from submitted abstracts, as well as a continuous poster exhibition will allow active participation of young chemists.
You can already register for this virtual event here : www.esoc2021.org
**********************************************************
We look forward to welcoming you at the 22nd European Symposium on Organic Chemistry (ESOC 2023) in Ghent, July 9-13 2023.
Since the first edition, this prestigious conference aims to bring together scientists from Europe and other parts of the world to share their interests in the field of organic chemistry at large. 
The programme will be designed to attract organic chemists both from academia and industry, and especially PhD students, postdocs and young researchers will have plenty of opportunities for exchange and discussion. 
This year, the Scientific Programme will include the following topics :
Organic Synthesis and Methodology
Catalysis and C-H Bond Activation
Medicinal Chemistry and Chemical Biology
Organic Materials and Supramolecular Chemistry
Physical and Computational Organic Chemistry
Enabling Technologies
ESOC 2023 will take place in the new University Forum (UFO), the main gathering area and representative building of the university, ideally located in the heart of the city.
Welcome to Ghent "Europe's best kept secret"!
Johan Van der Eycken and Erik Van der Eycken
ESOC 2023 Chairmen
All Dates
From

2023-07-09

00:00

to

2023-07-13

00:00