ABPP 2019 - Target Discovery and Visualisation using Chemical Probes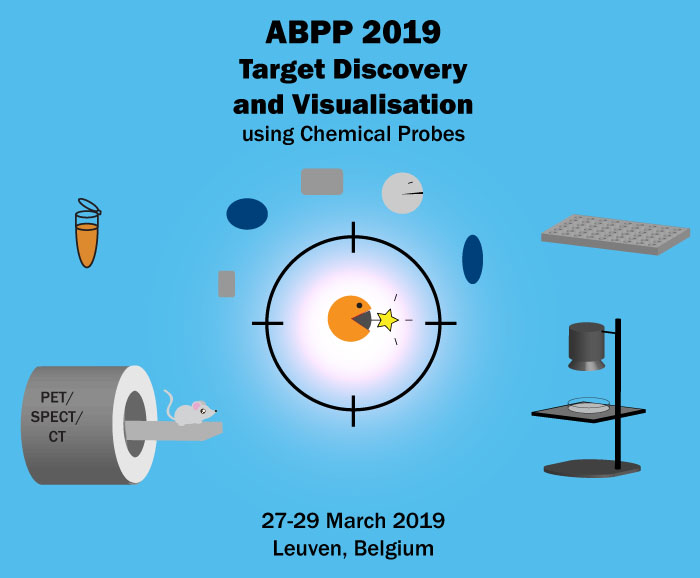 Datum
2019-03-27
12:00
-
2019-03-29
12:30
Locatie
KU Leuven, Thermotechnisch Instituut - Kasteelpark Arenberg 10, 3001 Leuven

The 12th annual ABPP meeting will be organized in Leuven, Belgium. The meeting will take place on 27-29th of March, 2019 at the "Thermotechnisch Instituut" on the beautiful Arenberg Campus.
Confirmed speakers and attendants include:
Matt Bogyo (keynote speaker, Stanford University, USA)
Ben Cravatt (keynote speaker, The Scripps Research Institute, USA)
Hermen Overkleeft (keynote speaker, Leiden University, The Netherlands)
Galia Blum (The Hebrew University, Jerusalem, Israel)
Renier van der Hoorn (Oxford University, UK)
Markus Kaiser (University Duisburg-Essen, Germany)
Michael Meijler (Ben Gurion University of the Negev, Israel)
Stephan Sieber (Technical University Munich, Germany)
Mario van der Stelt (Leiden University, The Netherlands)
Ed Tate (Imperial College London, UK)
We are dedicated to bringing together ABPP-researchers and creating the scientifically stimulating atmosphere that has characterized the past ABPP meetings. At the same time, we wish to attract researchers from the broader areas of biology, medicine and (bio-)chemistry that have an active interest in research with chemical probes.
To facilitate the exchange of ideas and results, two poster sessions will be organized. The meeting's poster abstract template is available on the meeting website. Completed poster abstracts should be sent to Dit e-mailadres wordt beveiligd tegen spambots. JavaScript dient ingeschakeld te zijn om het te bekijken. before Januray 31, 2019. Based on poster abstracts, a number of participants will be given the opportunity to deliver a brief oral communication. If you are interested in contributing an oral presentation, please mention this in your abstract submission mail.
Alle datums
Van

2019-03-27

12:00

tot

2019-03-29

12:30