Welcome to division HTC
HTC-15 congres in Cardiff
Het internationaal symposium Hyphenated Techniques in Chromatography and Separation Technology (HTC) werd dit jaar in de City Hall van Cardiff (UK) ingericht van woensdag 24 tot en met vrijdag 26 januari 2018. De Separation Science Group van de Royal Society of Chemistry (RSC) richtte het symposium in samen met de KVCV-sectie HTC, met medewerking van de British Mass Spectrometry Society en The Chromatographic Society. Dit was het tweede 'Engelse' HTC-symposium na HTC-10 in York in 2006.
Ongeveer 280 deelnemers uit 21 landen – waarvan ongeveer 2/3e uit het buitenland – volgden het wetenschappelijk programma bestaande uit lezingen, tutorials, postersessies en vendor seminars – in totaal 101 activiteiten in meestal drie parallelsessies. Het symposium werd voorafgegaan door drie short courses: An introduction to Biopharma, SFC – from theory to application en Statistical analysis of chromatographic data op dinsdag 23 januari 2018. Tijdens het symposium werd extra tijd voorzien voor jonge onderzoekers die hun wetenschappelijk werk konden toelichten tijdens 24 early career researcher presentations. Er werden 64 posters gepresenteerd en 25 firma's hadden een stand op de technische tentoonstelling.
Hoogtepunten:
LC-GC EUROPE sponsored de nieuwe 'Innovation Award' die wordt toegekend 'to celebrate the work of a scientist who is innovatively evolving the field of hyphenated techniques in separation science'. Dit jaar ging de eer naar Prof. Carolin HUHN, Universiteit van Tübingen (Duitsland) voor haar bijdrage op het vlak van Multidimensional separations in the electric field – Instrumental innovations.
Tijdens het HTC-congres reikt de Royal Society of Chemistry de 'Knox Medal' uit aan onderzoekers die belangrijke bijdragen hebben geleverd op het vlak van scheidings-wetenschappen. Prof. Peter MYERS van de Universiteit van Liverpool, UK ontving deze onderscheiding. Prof. Myers woonde reeds meerdere HTC-symposia.
Tenslotte werden er ook drie poster-awards toegekend aan respectievelijk Mathijs BAERT (UGent), Kris WOLFS (KU Leuven) en Vincent PEPERMANS (VUB).
Prof. Bas EELTINK (VUB) kondigde namens het organiserend comité aan dat de sectie HTC van KVCV HTC-16 zal inrichten in Het Pand te Gent van 29 tot 31 januari 2020.
Voor meer informatie zie HTC-15 summary (pdf-bestand).
Prof. Carolin HUHN, Duitsland
LCGC Europe Innovation Award 2018
(links Dr. Alasdair Matheson, LCGC)
Prof. Peter MYERS, UK
Knox Medal 2018 (RSC)
(Deel van het ) Wetenschappelijk en Organiserend Comité van HTC-15
v.l.n.r.: John DEAN (Northumbria University, UK), Graham MILLS (University of Portsmouth, UK), Frederic LYNEN (UGent, B), Bob BOUGHFLOWER (GSK, UK), Paul FERGUSON (AstraZeneca, UK), Deirdre CABOOTER (KU Leuven, B), Ruth GODFREY (Swansea University, UK), Bas EELTINK (VUB, B), Tom LYNCH (BP, UK), Sam WHITMARSH (BP, UK) en John LANGLEY (Southampton University, UK – chairman)
---
HTC-16 in Het Pand, Gent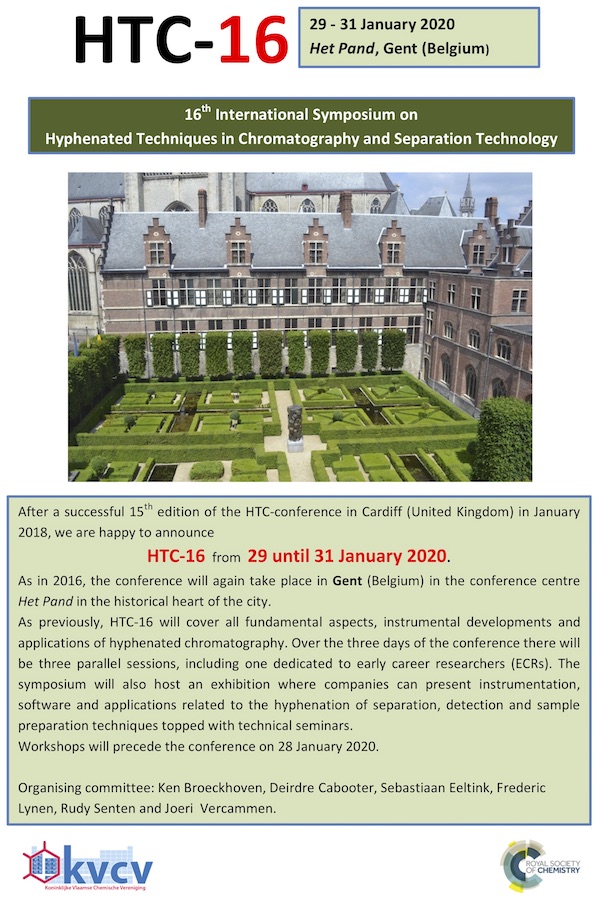 ---
HTC
Division HTC aims the organisation of conferences on "coupled chromatography", better known under the name 'Hyphenated Techniques in Chromatography and Separation Technology' (HTC).
Coupled chromatographic techniques - especially GC-MS (gas chromatography-mass spectrometry) - experienced a strong rise from the 1980s. In 1990, the former 'workgroup chromatography' dedicated a two-day conference to this. The initiative was taken by the later KVCV chairman dr. Robert Smits.
HTC symposia have since then been organized every two years, at the University of Antwerp until 1994, then in Bruges and from 2016 in Ghent. In the meantime, the scope of the congress has been further expanded and both fundamental aspects and applications of (multidimensional) gas chromatography (GC), liquid chromatography (LC) and supercritical liquid chromatography (SFC) coupled to various types of detectors (such as mass spectrometry) are amply discussed. Since 2006 the Science Separation Group of the Royal Society of Chemistry (UK) actively participates in the organization of the congress. In 2006 and in 2018 an "English" HTC was set up in York and Cardiff, respectively.
The HTC Congress lasts three days and is preceded by short courses. For the plenary lectures, speakers of international allure are invited.
During the HTC conference, the LCGC Europe/HTC Innovation Award is presented to a scientist who provided the most innovative contribution in the field of coupled chromatography. The laureate is elected by the Scientific Committee of HTC. The Innovation Award replaces the LCGC Europe Lifetime Achievement Award since 2018. Also the most innovative posters are awarded a poster award.
The Proceedings of the HTC conference are published in a special issue of Journal of Chromatography A.
The HTC Congress can only be arranged provided the efforts of the organising committee and the willing help of numerous students from universities and colleges. After the unexpected death of the founding chairman Robert Smits, Professor Frederic Lynen (Ghent University) took the Chair in 2011. From 2020, a rotating co-presidency will come into effect. For the next edition in 2020 Prof. Sebastiaan Eeltink (VUB) and Prof. Frédéric Lynen (UGent) will be responsible for this.