Welcome to division HTC
16th International Symposium on Hyphenated Techniques in Chromatography and Separation Technology (HTC-16)

Het tweejaarlijkse congres over gekoppelde chromatografie en scheidingstechnieken (HTC-16) gaat door van woensdag 29 tot vrijdag 31 januari 2020 in 'Het Pand', het congrescentrum van de Universiteit Gent (Onderbergen 1, 9000 Gent). Op dinsdag 28 januari 2020 worden short courses ingericht. (http://www.htc-16.com)
HTC-16 wordt georganiseerd door de Koninklijke Vlaamse Chemische Vereniging KVCV en door de Science Separation Group van de Royal Society of Chemistry RSC (UK) in samenwerking met de UGent, KU Leuven en VUB.
In 2020 zal het dertig jaar geleden zijn dat het HTC-congres voor het eerst werd ingericht.
In het wetenschappelijke programma komen alle aspecten van gekoppelde chromatografische technieken aan bod met in het bijzonder massaspectrometrie, nieuwe detectoren, analytische procestechnologie, multidimensionele scheidingstechnieken en staalvoorbereiding. Toepassingen van HTC-technieken in biotechnologie, farmacie, voedselonderzoek, milieuanalyse, klinische en forensische chemie, (petro)chemische analyse, data-mining, omics en polymeeronderzoek zullen ruim aan bod komen. Het wetenschappelijke programma omvat plenaire lezingen en drie parallelle sessies met keynote – en gewone lezingen, tutorials en een speciale sessie voor jonge wetenschappers (Young Emerging Scientist (YES) session).
Uitgenodigde sprekers:
Plenaire lezingen: Emily Hilder (University of South Australia), Robert Kennedy (University of North Carolina, US), Gert Desmet (Vrije Universiteit Brussel) en Pat Sandra (RIC)
Keynote lezingen door Alberto Cavazzini (Universiteit van Ferrara, IT), André de Villiers (Stellenbosch Universiteit, SA), Torgny Fornstedt (Karlstads Universiteit, SE), Tadeusz Gorecki (Universiteit Waterloo, CA), Dwight Stoll (Gustavus Adolphus College, US), Monika Dittmann (Agilent Technologies, DE), Davy Guillarme (Universiteit Genève, CH), Jean-François Focant (Universiteit Liège, BE), Michael Lämmerhofer (Universiteit Tübingen, DE) en Frantisek Svec (Charles Universiteit, CZ)
Er zijn postersessies tijdens de koffie- en lunchpauzes met uitreiking van de Best Poster Awards tijdens de sluitingssessie.
Vendor seminars en technische tentoonstelling
Om de contacten tussen (zowel academische als industriële) gebruikers en verkopers van wetenschappelijke apparatuur te optimaliseren, werd een Industry Advisory Board gecreëerd met als voorzitter Joeri Vercammen (Interscience, UGent) en als leden Achim Treumann (KBI Biopharma), Hamed Eghbali (DOW), Peter Van Broeck (Johnson & Johnson), Hans-Gerd Janssen (Unilever), Erwin Kaal (DSM) en Koen Sandra (RIC).
Tijdens HTC-16 loopt parallel met het wetenschappelijk programma een tentoonstelling;
Vendor seminars zullen tijdens de lunchpauzes van HTC-16 worden georganiseerd.

Short Courses
Op dinsdag 28 januari 2020 worden twee short courses ingericht:
Multidimensional and Hyphenated Techniques in LC and GC

met als lesgevers Joeri Vercammen (UGent) voor het deel GCxGC en Davy Guillarme (Universiteit Genève) en Dwight Stoll (Gustavus Adolphus College, USA) voor LCxLC en LCxLC-MS

Cannabis Analysis

met als lesgevers Flavio A. Franchina, Allegra Leghissa, Xaver Mönninghoff en Gesa Schad.
Awards
Naast de Poster Awards worden tijdens HTC-16 volgende awards uitgereikt:
HTC/LCGC innovation award

aan een wetenschapper die een vernieuwende bijdrage leverde tot gekoppelde chromatografie. Deze award wordt gesponsord door LC.GC Europe

HTC-Award

voor de meest innovatieve poster of lezing. Deze award wordt gesponsord door Elsevier
De Proceedings van HTC-16 worden in de digitale uitgave van een extra nummer van de Journal of Chromatography A gepubliceerd.
Sociaal programma
Op woensdagavond 29 januari 2020 is er een bieravond en 's anderendaags gaat het HTC-banket door. Het congres wordt op 31 januari 2020 afgesloten met een afscheidsreceptie.
HTC-16 wordt ondersteund door het
wetenschappelijk comité

: Gert Desmet (voorzitter), Brussel, BE; Ken Broeckhoven, Brussel, BE; Deirdre Cabooter, Leuven, BE; Paola Dugo, Messina, IT; Jean-François Focant, Liège, BE; Davy Guillarme, Genève, CH ; Michael Lämmerhofer, Tübingen, DE; John Langley, Southampton, UK; Valérie Pichon, Paris, FR; Peter Schoenmakers, Amsterdam, NL en František Švec, Praha, CZ.

organiserend comité

: Sebastiaan Eeltink (voorzitter), Brussel, BE; Frédéric Lynen (co-voorzitter), Gent, BE; Ken Broeckhoven, Brussel, BE; Deirdre Cabooter, Leuven, BE; Jelle De Vos, Brussel, BE; John Langley, Southampton, UK; Rudy Senten, Antwerpen, BE; Joeri Vercammen, Gent, BE.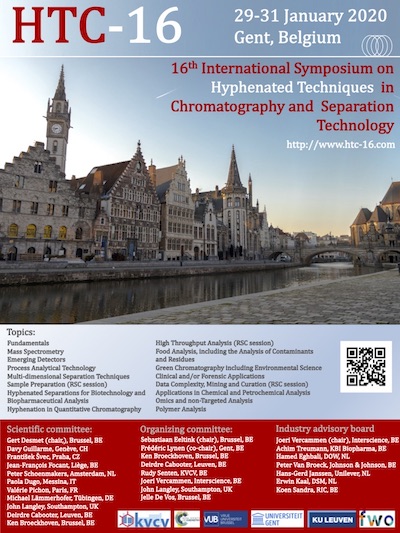 Klik op de afbeelding om grote versie van de poster te bekijken.
---
HTC
Division HTC aims the organisation of conferences on "coupled chromatography", better known under the name 'Hyphenated Techniques in Chromatography and Separation Technology' (HTC). 
Coupled chromatographic techniques - especially GC-MS (gas chromatography-mass spectrometry) - experienced a strong rise from the 1980s. In 1990, the former 'workgroup chromatography' dedicated a two-day conference to this. The initiative was taken by the later KVCV chairman dr. Robert Smits.
HTC symposia have since then been organized every two years, at the University of Antwerp until 1994, then in Bruges and from 2016 in Ghent. In the meantime, the scope of the congress has been further expanded and both fundamental aspects and applications of (multidimensional) gas chromatography (GC), liquid chromatography (LC) and supercritical liquid chromatography (SFC) coupled to various types of detectors (such as mass spectrometry) are amply discussed. Since 2006 the Science Separation Group of the Royal Society of Chemistry (UK) actively participates in the organization of the congress. In 2006 and in 2018 an "English" HTC was set up in York and Cardiff, respectively.
The HTC Congress lasts three days and is preceded by short courses. For the plenary lectures, speakers of international allure are invited.
During the HTC conference, the LCGC Europe/HTC Innovation Award is presented to a scientist who provided the most innovative contribution in the field of coupled chromatography. The laureate is elected by the Scientific Committee of HTC. The Innovation Award replaces the LCGC Europe Lifetime Achievement Award since 2018. Also the most innovative posters are awarded a poster award.
The Proceedings of the HTC conference are published in a special issue of Journal of Chromatography A.
The HTC Congress can only be arranged provided the efforts of the organising committee and the willing help of numerous students from universities and colleges. After the unexpected death of the founding chairman Robert Smits, Professor Frederic Lynen (Ghent University) took the Chair in 2011. From 2020, a rotating co-presidency will come into effect. For the next edition in 2020 Prof. Sebastiaan Eeltink (VUB) and Prof. Frédéric Lynen (UGent) will be responsible for this.